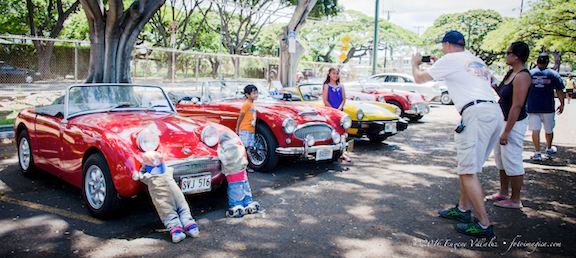 British car owners carefully prepare their vehicles each year for the Annual All British Car Day. It's a day to celebrate the heritage of automobiles from the United Kingdom. This year's event, held Sunday, May 29, marked the 24th annual gathering hosted by the British Car Club of Hawaii.
The day began with a parade that started from the Ala Moana Center along Ala Moana Boulevard—proudly motoring through Kalakaua Avenue, up Monsarrat Avenue, and ending at Kapiolani Park.
Some of the finest cars in the world assembled in the park beneath Diamond Head in the background, including vehicles manufactured by Aston Martin, Triumph, MG, Rolls Royce, Austin Healey, Jaguar, Lotus, Ford, Morgan, Land Rover, McClaren and Mini Cooper.
As the event is held in Waikiki the car show has its fair share of visitors from around the world. It's merely a block or two from many hotels and makes for a nice Sunday morning stroll. Some visitors make it a point to include the show in their annual visits to Hawaii.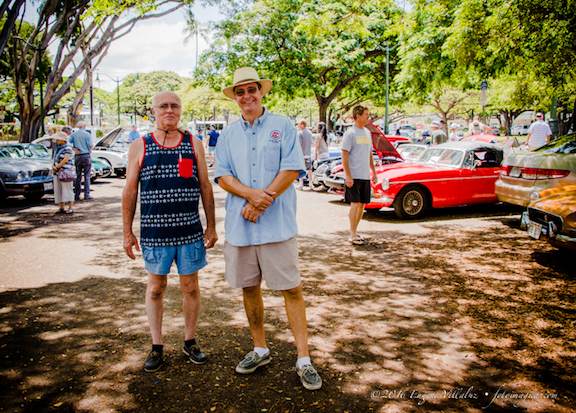 This year, David Alexander, a past president of the MG Car Club of Florida, visited and spent time chatting with many of the Hawaii MG owners.
Ballots are cast throughout the morning for visitors to vote for their favorite cars. This year, the People's Choice Winner was awarded to Bob DeWitz for this 1933 MG J2.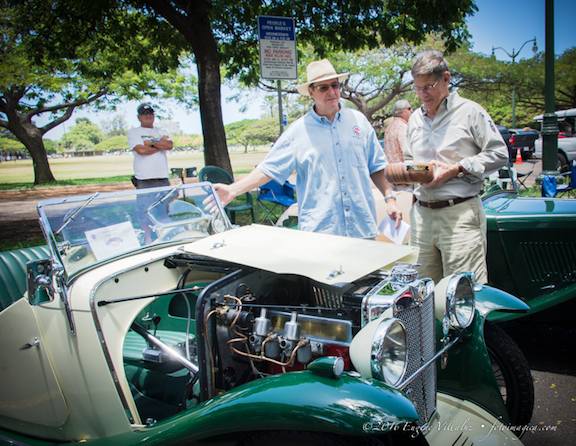 The show closed at noon and members and guests met again at the Gordon Biersch Restaurant at the Aloha Tower Marketplace. This time, for refreshments, lunch, camaraderie, door prizes and the Anastasia Cup Award presentation.
The Anastasia Cup, this year, was presented to Ron McPherson.
Link to view photos of the 2016 All British Car Day here.