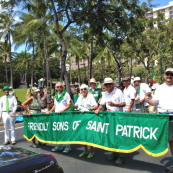 For those of you who like to test the limits of your British car's cooling system, here is an opportunity coming up in March that should do the trick. The annual St. Patrick's Day Parade will take place on Friday, March 17th.
The club has paid the entry fee for members of the British Car Club to participate in this event. It is not a British Car Club event so I/we have nothing to do with it except pay the entry fee for our members.
For information, you need to get online and find out who is in charge, and what they expect from the participants that morning. The link below should get you there.
Have fun, and good luck,
Rob
More information at:
http://fosphawaii.ning.com/events/46th-annual-st-patrick-s-day-parade-in-waikiki