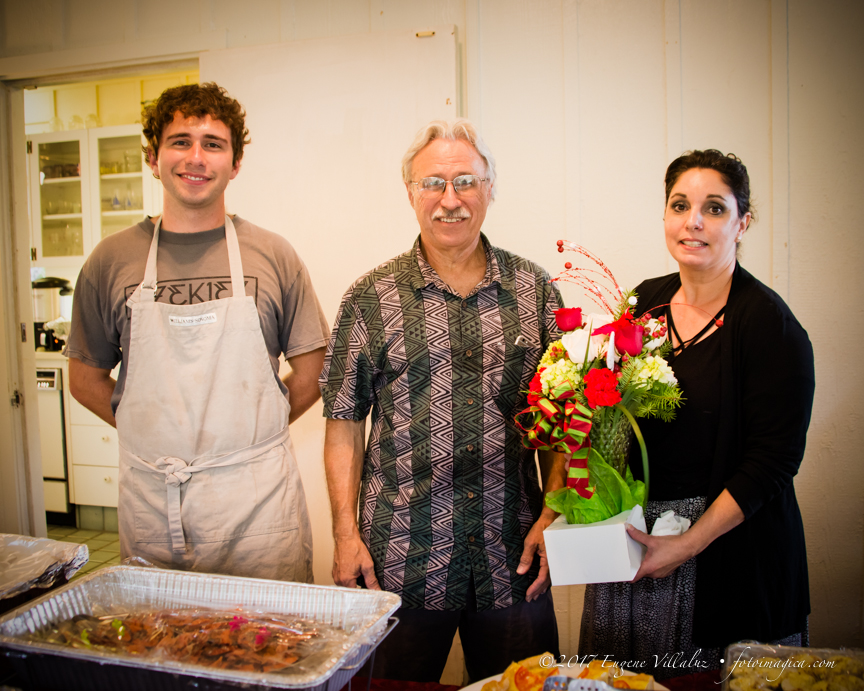 Next to the  All British Car Day, the club's Christmas Brunch is the biggest event of the year. Beginning with a Hawaiian style road trip, with a fantastic brunch at a beautiful beachside estate on the North Shore, and followed by a buffet of raffle prizes.
Here is everything you need to know from how to RSVP and pay for the brunch, how to get there, and how to renew your membership for the next year.
Speaking of renewing your membership … this is an excellent time to write one check for both the brunch and next year's membership.
If you are on the fence about renewing for another year, consider the perks of being a member; free maintenance on all your British Cars; a bunch of lifetime friends you can't find anywhere else; fun events during the year including All British Car Day, and the Christmas Brunch with a raffle ticket possibly worth more than the price of an annual membership. Sort of a no-brainer if you ask me.
RSVP for the brunch by sending your payment to treasurer Dave Luengen. More information and mailing address below.
Below is the menu for this year's English Tea themed brunch hosted by Joshua Greig. If you have attended any of his previous events, you know how lucky we are to have him step up and take on this event.
In the past, we have convoyed up the coast to Joshua's house (a safety in numbers thing) and this year is no exception. It's the closest thing to a road-trip and a beautiful drive. The meeting times and address are at the end of this email. I hope to see everyone there and look forward to another year of membership with all of you.
One more small detail. The Christmas brunch has always been an opportunity for a "changing of the guard". Or in less dramatic terms, the election of club officers for the following year. If you have joined the club within the past decade, you probably have never known any other club officers other than the current bunch. Speaking of long term dedication to the club, secretary and treasurer Dave Luengen has been in his position since the 1980s. If anyone would like to challenge the current slate, or suggest a new position, now is the time to step forward and make your thoughts known. A word of warning … just because you may be absent from this event doesn't mean you won't be elected to fill a vacancy. Ask me how I know.
Christmas Brunch: $22 per person (which includes one raffle ticket per membership)
Family membership: $25
Single membership: $20
Make checks payable to BCCH and send them to:
Dave Luengen
91-1138 Lanakoi St
Kapolei  HI 96707
Menu
Lox'
Roast beef finger sandwiches
Quiche
Deviled eggs
Coronation chicken served on salad
Individual tiramisu cups
White cake petit fours with ruby chocolate buttercream
Chocolate petit fours with a chocolate espresso ganache
Passion fruit cheese cake tart (passion fruit subject to availability)
Lemon tarts with a shortbread crust and grapefruit ganache
Assorted drinks
An English tea
Meet at Temple Valley Shopping Center between 10:15 and 10:45 before caravanning to Josh's house
Leave Temple Valley Shopping Center about 10:45
Arrive at Joshua's about 11:30
Lunch will be served about 12:00
Directions
Joshua's  house is at 55-271 Kamehameha Highway.  Coming from Kaneohe you will pass the Hauula Shopping Center on your left approximately two minutes before arriving at the house. You will pass Pounders Beach Park on your right shortly after and the house is the fourth driveway after the beach park. There will be balloons marking the entrance of the driveway. If you pass the Polynesian Cultural Center you have gone too far.
If you are coming from the North shore you will pass McDonald's on your right and then the Polynesian Cultural Center, our home will be on the left less than a minute after, balloons will mark the entrance. If you pass by Pounders Beach Park you have gone too far.