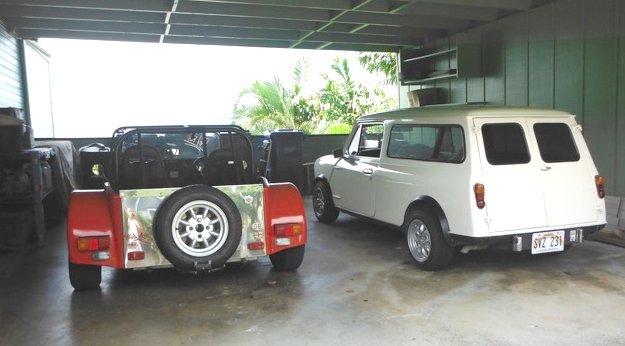 When the past, present, and future all meet inside one garage, there's no telling what might happen. Club member Marc Rosen was at such an epicenter the other day when he parked his "new" Lotus Super-7 next to his recently sold Mini.
He stopped by my house shortly after he picked it up from the Matson dock and, understandably, wanted to show it off. I would, too.
The only improvement I could suggest was a cool pair of leather goggles and maybe a white scarf trailing in the slipstream. The polished stainless bonnet and red fenders make his new baby look like it's going a hundred miles per hour standing still.
Like any new car owner, he already has a punch list of things he'd like to change. My second piece of advice for Marc: "Before getting into changes, just drive the snot out of it for a while and enjoy your new toy."
Keep your eyes open around the Kailua area, this little car is hard to miss.
Aloha, Rob