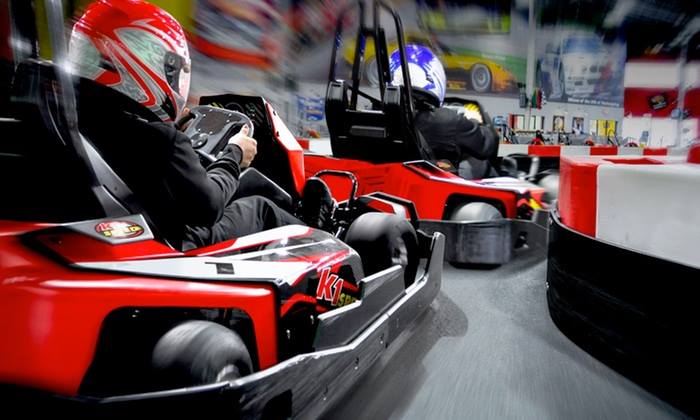 The spring 2018 BCCH Karting Grand Prix was held Tuesday, May 9, at the K1  track in Kapolei, and the dozen BCCH members who came out had a great time. H1 westbound traffic was surprisingly light for those leaving the Honolulu  area around 6:00 PM, with the predictable slow down past Aiea.
The track was quiet when we arrived at 7:00 PM, but business picked up and a few other small groups arrived to join in the fun and excitement. Our party was grouped into two, those who had karted before, and those who had not. President Brett, a former karting champ, worked with the helpful K1 staff to keep our party together, and our races well-organized. In keeping with the GP format, each group raced three 16 lap sessions: practice, qualifying, and race. Each session was gridded by the fastest time in the previous session.
In the first timers group, we had three spirited women who put their newly found racing skills into action against three guys, and their races had plenty of action, with a few spins for good measure. Dave came out on top  at the checkered flag, but was closely followed by Suzanne Sortor and Michael Rowe who battled for second.
In the experienced group, two 'senior' members locked out the front row in qualifying. The race turned out to be anything but a procession, as Patrick, the pole sitter, was spun on the first lap when tagged from behind, dropping him from the lead to 5th out of six places. He managed to claw his way back up through the pack to finish second, behind an uncatchable Rob Cowie, who took the checkered flag first, and had the evening's best lap time for our group.
I think it is safe to say, based on the smiles and laughter heard afterwards, there will be a re-match to be scheduled, not to mention the fact that there were several interested members who were off island for this event. Stay Tuned!